Forest Flame Disco Sound, Lighting and PA Hire Southampton is the hire department of Forest Flame Disco. We supply disco lighting, PA, and Sound hire for Southampton, Winchester, Romsey, Eastleigh, Chandlers Ford, Lymington, Fareham, Totton, Southsea, Lee On Solent, The Waterside, Hampshire, South Wilts, Ringwood, Fordingbridge and the New Forest.

Do you need to hire a sound system to play music from laptop, phone, or i pod at an event?

Do you need to hire a P.A system, or microphone, amplifier and speakers for an open-air event?

Do you need a portable battery-powered PA system?

Do you need sound and lighting equipment setting up for a band or concert?

Do you need someone to set up and operate sound and lighting equipment for your event?

You can collect and return to us, or, depending on other commitments, we can deliver, set up and operate according to your needs. We will normally ensure you have all the leads and connections you need.





Our equipment has been PAT tested and we are covered by £10 Million Public Liability Insurance.
SOUND EQUIPMENT FOR HIRE
If you are holding a party or music event for 15-300 people we have the right sound system for you, from simple 100w amplifier and speakers, or Portable PA System, up to our band package of microphones, cables, mixer with up to 8 inputs and pair of 15" 1000 watt powered speakers (and 1Kw sub if needed).
Mobile and portable PA system; ideal for buskers, small band or singers, or outside PA if used under gazebo. 100 Watt RMS into 12" sub and 1" tweeter all in one box complete with mixer.
Comes with 2 handheld radio mics and headset radio mic (you can only use 2 at any one time). Also has stereo input for music from i-pod or laptop etc, plus 2 wired mic inputs (or 1 mic and 1 guitar). Will mount on speaker stand.
Can run on mains or battery (up to 8 hours when charged). This unit could also be used as mixer-monitor with Front Of House run through our other hire speakers.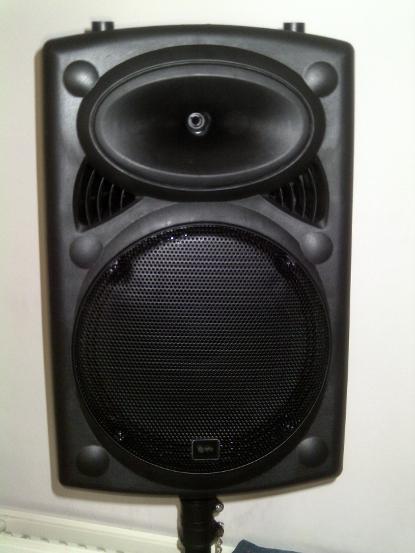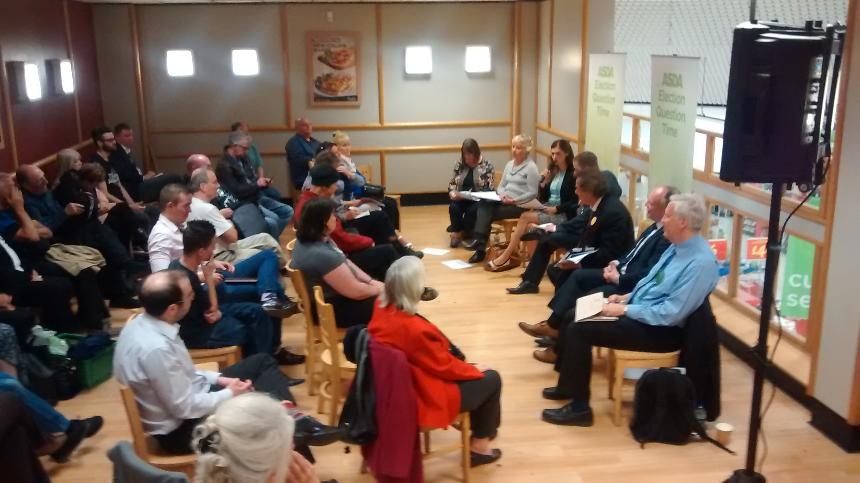 PA system and 2 radio microphones used by Election candidates for public election meeting at ASDA Southampton
STEREO SOUND SYSTEM WITH SUB
The LD Dave Stereo sound system comprises a 10" sub-woofer with a pair of 5" tops mounted on central poll. The amplifier produces 350 watts of power (RMS).
The system takes about 2-3 minutes to set up and can be transported in the smallest of cars.
Ideal for parties in homes or small-medium sized halls for up to about 60-80 people. Simple, but good quality sound where you need plenty of bass.
Comes with wheel-board for easy transport into venue.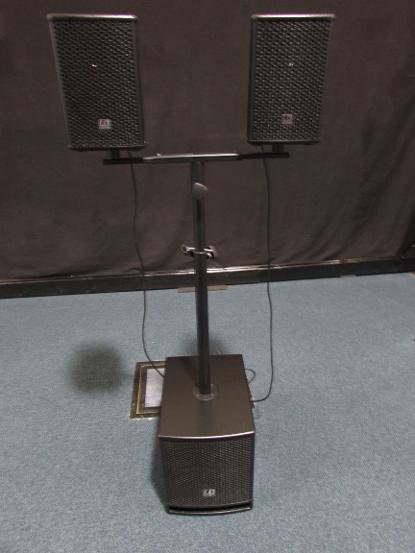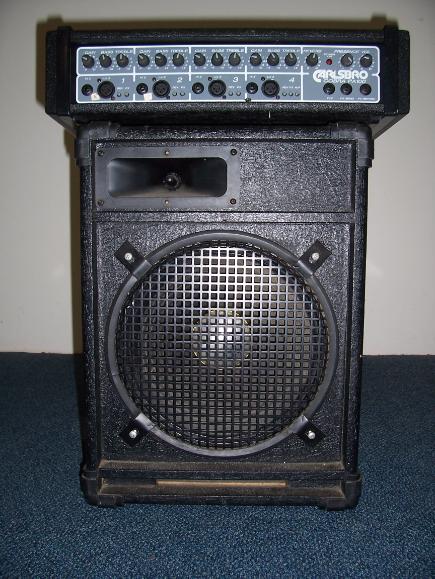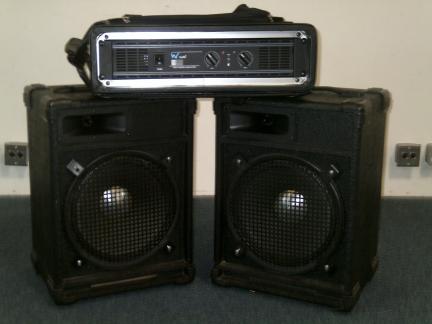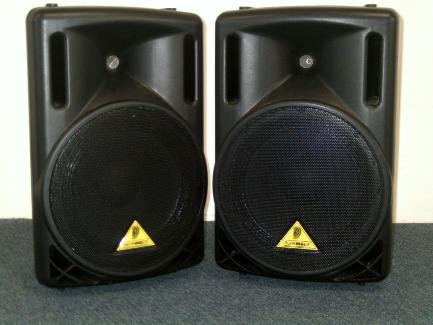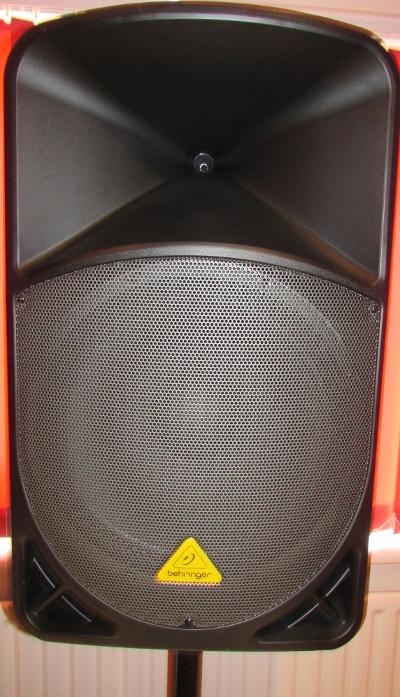 Behringer Xenyx 1202XF MIXER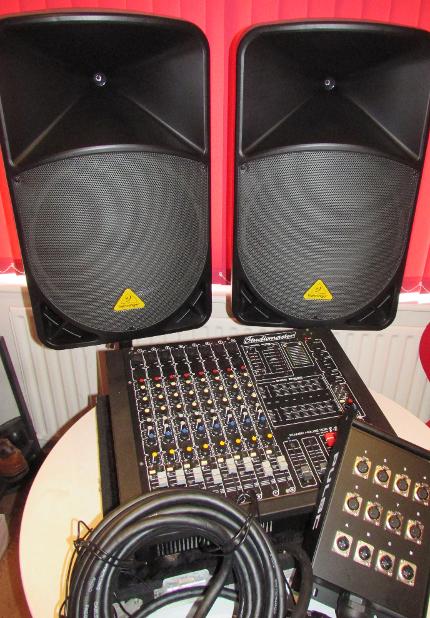 The Carlsbro gives approx 100w of power into two 12" speakers and has 4 inputs.
It is ideal for outside events when kept under gazebo. Includes stands and cables and can be used for music or microphones. Very loud!
Easily transported in an average car.
The Stereo party sound package comprises a pair of 12" speakers and stands and stereo amplifier giving approx 100 each watts into each speaker.

Small enough to fit in a small car.
Comes with cable to attach to mp3 player or laptop.
The speakers each have a 350 watt amplifier fitted feeding into 12" speaker and horn. Powerful enough for larger venues and up to 200 people. Can be used for playing recorded music, for solo performers, or small band. Come in bags with stands and all necessary cables.

Pair of powered speakers with 15" speaker plus horn. Total power of each speaker is 1 Kw.
Ideal for music or speech for 100-300 people or more. Can be used for playing recorded music or speech as it has a radio microphone. Also for live singers or band. Comes in bags with stands and all necessary cables
Behringer Xenyx 1202 XF 14 channel mixer with effects unit. Ideal if you need up to 4 microphone inputs and 4 stereo iinputs. Ideal for solo speaker or singers up to a small band. Works well with powered speakers (above). Comes with microphone and all cables.

The BAND PACKAGE comprises a 15m 8 way / 4 return cable, an 8 channel stereo mixer, and a pair of Behringer B115 15" powered speakers each producing 1Kw of power, and stands. Shure SM58 Vocal microphones, Shure SM57 Instrument Microphone, JTS and Behringer drum mics, stands and D.I boxes. Radio microphones and cables are also available.
Ideal for singers with backing tracks, or small band with up to 8 microphone inputs.
Can also be used with pair of B212 12" monitors as there are 2 monitor mixes on the mixer.
Forest Flame Disco Sound, Lighting and PA hire Southampton, 12 Oldbarn Close, Southampton, SO40 2SY.
Forest Flame Disco Sound & Light Hire Southampton for amplifier hire, speaker hire, sound system hire, battery-powered sound system hire, disco light hire, disco equipment hire. Mob 07999928503